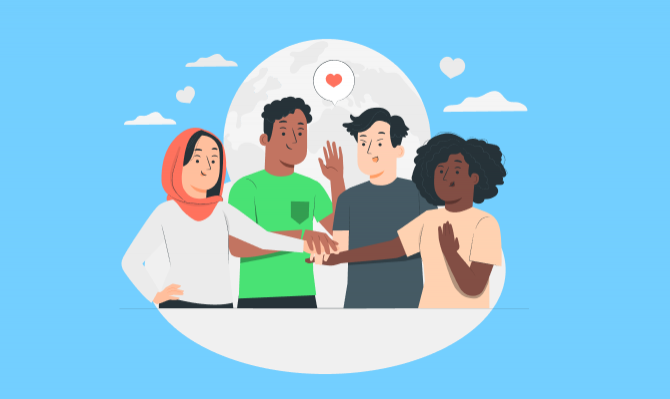 Non-governmental organizations are non-profit organizations where people with different opinions come together for a purpose, independent of official institutions and have no interest in the state, and their main purpose is for the benefit of society.
One of the most important indicators of social development is undoubtedly the ability to organize. Societies develop and become stronger to the extent that they can be organized. Although our country lags behind most European countries in the number of foundations and associations, the developments are pleasing.
How Should Ngos Become?

Non-governmental organizations should be at an equal distance from all segments of society and without prejudice. While doing this, their goals should be shared clearly and understandably. An institution that is aware of the fact that the power that creates non-governmental organizations is human, represents cooperation and reconciliation, tolerance and accumulation.
Non-governmental organizations should explain themselves to people with the help of the right tools. It can reach this goal by using the media correctly, with a well-structured communication network to inform the society about its work, with the sense of belonging it creates with local and central administrations, volunteer supporters.
Today, both social media and media organs have become a great power to reach large masses. Non-governmental organizations should also be aware of this power and adapt new technologies and platforms to their work. A non-governmental organization that uses social media effectively and correctly will not have any problems both in gaining new members and increasing its awareness.
Non-governmental organizations should analyze the society correctly and determine the wishes and expectations of the masses and work accordingly. It must absorb the fact that it is one of the greatest unifying forces of society and strive to bring society closer to a culture of reconciliation and tolerance.
Strategic Planning

Strategic planning in non-governmental organizations; the current situation, the desired situation and the determination of the ways and methods to be followed in order to reach it. A non-governmental organization that does not have a goal or is unaware of its current situation and resources cannot be expected to achieve its goals and objectives.
Mission And Vision In Ngos

Every NGO operates with a purpose. It exists for this purpose and works to achieve that purpose. Mission is this purpose itself.
Vision, on the other hand, represents the long-term plans and projects of the institution and, in a sense, its future. The change and development that is desired to be made by taking into account the available resources regarding the society and the world we live in is the subject of the vision.
Non-governmental organizations managed with a participatory management approach should benefit from the ideas of each individual they work with for their purposes. When the goals for today and the future are set with the participation of these people, it also reinforces the high sense of belonging in people.
Public Relations

We mentioned that non-governmental organizations are working to shape and develop society. For this reason, studies whose subject is human should be messaged and conveyed to the society with a human-centered understanding.
When dealing with public relations, the media, the internet, the world of science and politics, sponsors and many other people or institutions should be used.
Contact

Communication, which is the subject of lectures in various universities today, has become the most important subject of our age. Non-governmental organizations should pay attention to communication with people through the right communication channels and correctly construct the message they need to convey.
Aidango is an integrated software that offers unmatched services for all nonprofits. It allows non-governmental organizations to freely manage their administrative activities, control of financial movements such as donations and dues, human resources and member relations from a single screen while they are carrying out their activities.
If you want to benefit from Aidango services while managing the non-governmental organization you are managing, you can contact us at any time.